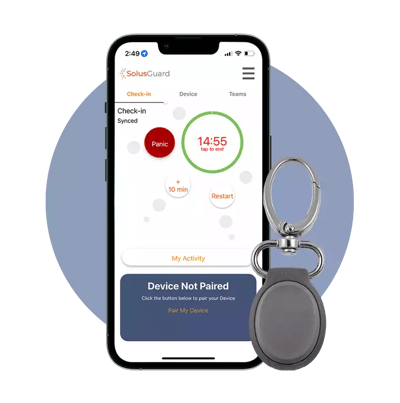 Quickly and Reliably
Signal for Help
In high-risk situations, just a matter of seconds can mean the difference between life and death — people can't afford to scramble with finding and unlocking their phones, opening an app, making a call, or waiting for a monitoring service to handle the alert.

A quick press of the wearable panic button and our SolusGuard Mobile workplace safety app instantly alerts a network of emergency contacts.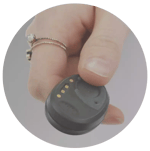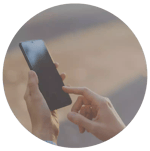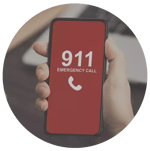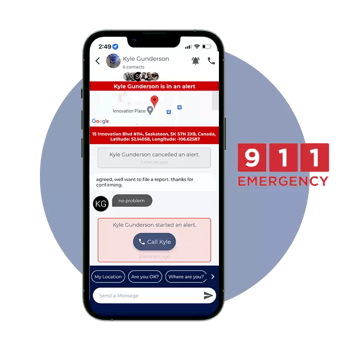 Patented
Backup Call
Many wearable panic buttons fail to handle situations like locked phones or closed and unavailable apps. This leaves your people vulnerable.
With SolusGuard, our exclusive and patented failsafe technology was designed to reliably and consistently call 911 in an emergency, even if the phone is locked or the app is closed or unavailable.
Nobody else does this.
Better Safety
By Design

Easy to Use - No complicated instructions and no fumbling with a phone.
Discreet - Worn as either a belt loop clip or as a pendant; both options allow easy access and can be hidden in difficult situations.
Reliably Rugged - Designed for unpredictable environments, the device is completely sealed making it water and dust proof.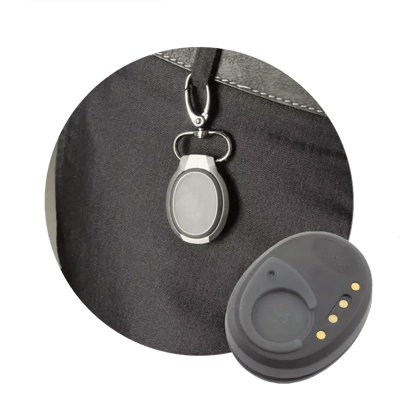 Do the employees need a smartphone?
Yes, SolusGuard pairs with a compatible smartphone that has an active cellular and data connection. Contacts should also use a smartphone to ensure SolusGuard alerts work properly as notifications, GPS location, and inactivity can only be accessed through the SolusGuard app.
SolusGuard requires a smartphone with iOS10+ or Android OS 6+. We support all iPhones 5 and later operating on iOS10+. Most Android phones running Android OS 6+ are supported. To check if a specific Android phone is compatible, please send us a message at Tech@SolusGuard.com to confirm.
How much does SolusGuard cost? Are there monthly fees?
We provide configurable packages for each company based on their needs. Please contact us at
Tech@SolusGuard.com
for a quote.
How long does the battery last?
SolusGuard will last for 3-4 days (depending on usage) before needing to be recharged. We recommend leaving the device on the charger when not in use.
Typical charging time for SolusGuard emergency alert devices is about two hours. A solid green light on the device indicate it's fully charged. The simple magnetic charger is included with purchase of any SolusGuard package.
Is there a warranty?
We offer a one-year warranty. Please email
Tech@SolusGuard.com
if you would like a copy of our warranty policy.
Who can be a contact and are there any limits to how many contacts I can have?
Anyone with a smartphone can be a contact, and there is no limit to how many contacts each device can have. Contacts are invited through the SolusGuard app. They will receive a text instructing them to download the SolusGuard app. Employers can review all contacts for each SolusGuard device in the dashboard within the app.
Do the contacts need the SolusGuard app as well?
Yes. To ensure the alerts and notifications work properly, the contacts will need to download the free SolusGuard app.
Can one person be a contact for multiple devices?
Yes. One person can be a contact for as many devices as needed.
How can the phone phone alert 911? Does it still work if the employee has an iPhone and it is in sleep state or locked?
After the employee signals an alert, if they do not receive and answer a phone call within two minutes, their SolusGuard device will instruct their phone to call 911. Our patented system follows protocol that will unlock an iPhone in sleep state. As long as their phone is in range and charged, 911 will be called at the end of the countdown, even if the phone has a passcode and is locked.
This is a major benefit of SolusGuard compared to our competitors. Look closely at their messaging—it is common for the fine print to indicate that the phone must be unlocked, or that contacts need to call 911. Calling 911 on someone else's behalf, when you don't know where they are or what is going on, is not advised.
Can the call go to a number other than 911? Can it be monitored by a security company?
Yes, this feature can be configurable. If you are interested in monitoring, please contact us at
Tech@SolusGuard.com
.
What if an employee presses the button accidentally?
We've designed the SolusGuard device to make it difficult to press the button by accident. The button is indented so the employee can feel where it is, but will be unlikely to accidentally press it. However, if an employee does press it by accident, it's simple to cancel the alert in the SolusGuard app. Their support network will be notified that they cancelled the alert.
Can one SolusGuard device be paired with two smartphones so employees can share an emergency alert device?
Each SolusGuard device is paired to one smartphone at a time. If you need to, you can reconnect to a different smartphone. For more details about this, send us a message at
Tech@SolusGuard.com
.
What kind of notifications does the system send to contacts?
Contacts will receive a Push Notification from the SolusGuard app and their phone will emit an emergency sound. (The employee's SolusGuard device will vibrate and blink red, and their phone will also emit an emergency sound.) When contacts open the SolusGuard app, they will see who is having an emergency and a map will show their location.
Does SolusGuard track location all the time?
Privacy is our highest priority. SolusGuard only tracks the employee's location when they press the button, and only then does it share location information. It shares their location only with the contacts added via the SolusGuard app. We respect your right to privacy and treat your personal information with strict confidentiality.
Will you ship internationally?
SolusGuard is currently certified for sale in Canada and the United States. We plan to sell to other countries soon. If you are outside Canada and the United States, please email us at
Tech@SolusGuard.com
.
How close does the phone need to be to SolusGuard device?
Since SolusGuard uses Bluetooth technology, the SolusGuard and phone will need to be within range of each other to send alerts and transmit data. This range depends on specific circumstances, like phone model and current environment, but is typically 20 to 30 feet. In general, it is best for employees to keep their SolusGuard and smartphone close together.
What happens if the phone paired with SolusGuard shuts down or is out of cellular service range?
SolusGuard requires that the SolusGuard app is running on the phone to work properly. It also requires cellular service and a data connection.
Satellite extension is available. Please reach out to us at 1.888.651.6510 or Tech@SolusGuard.com for more information.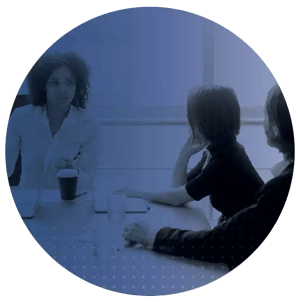 Built to a Stricter Set of a Standards
When it comes to something as important as safety, we never cut corners. Designed and built by SolusGuard in North America, our technology is best-in-class. Feel confident your people are protected.
North America's most innovative organizations trust SolusGuard to keep their people connected and safe.









"SolusGuard has given us an amazing product and customer service. It provides our staff with an added layer of protection throughout their day." Andrew Sedley, Executive Director

SIGN
"SolusGuard has afforded our team a real sense of security while completing their day to day tasks. Strongly recommended, the experience has been great." Sheena Reyes Keslick, VP Operations

MainStreet Equity Corp.
"SolusGuard means peace of mind! In the Property Management industry we give our investors peace of mind that their investment is being managed and that tenants feel safe in their homes. SolusGuard has taken this one step further to provide peace of mind that my employees are safe no matter where they might be." Carla Browne, President

Real Property Management Canada
"SolusGuard has been a great partner in safety. Their technology is industry leading and provides us an advanced level of protection for our team members. Thank you." John Price, Senior Vice President HSE

Avenue Living
Protect Your People.
Protect Your Business.
We are dedicated to helping your team develop a safety solution customized for your organization's unique needs.
Contact us to learn more about how SolusGuard's suite of workforce safety solutions can help.